New section
After the Storm (Original)
Eufrocina Manigos and Eyvind Bilstad
The Spirit Of Christmas
Eufrocina Manigos and Eyvind Bilstad
Boost!
Eufrocina Manigos and Eyvind Bilstad
A song inspired by the northern summers, and the craving for vitamin D.
Read more…
Mama by Eufrocina Manigos and Eyvind Bilstad, ft.Christopher Marchesan
Latin pop single feat. Christopher Marchesan.
Read more…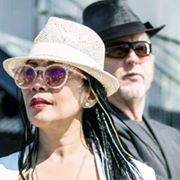 our story
eufrocina manigos and eyvind bilstad
Eufrocina Manigos has been working professionally as a guitarist and singer since she was 17 years old, with a female group in Philippines. They were touring all Asia, and Middle East with their cover music. When the group broke up, she continued to work as a solo artist in Italy and The Mediterranean countries. She has won several awards for her compositions.
Early 2018 she was for a visit in Norway, and met Eyvind Bilstad, and they started right away to compose music together.
Eyvind Bilstad has been in different bands since he was 14 years old, doing blues, jazz, heavy rock, rock`n roll, soul, country and gospel music.
He has been doing guest appearances with Linda Gail Lewis, Dr.Feelgood, Percy Sledge Band among others.
He has done backing vocals on live television performance with Art Garfunkel, and has been doing support gigs with bands, for Delbert mcClinton and Nazareth.
The first release was september 8. 2018, and is dual language filippino/english " I Met You In A Song".
Second single, "Stranger in a foreign land (Lalalalala)", got released July 8th., 2019-
Third single "Virago" was released Feb.18. 2020.
Fourth single "Mama" featuring Christopher Marchesan was released Dec.8th, 2020.
Fifth single "Ignites" was released May 7th, 2021.
Sixth single "Boost!" was released July 16th, 2021.
Seventh single "The Spirit Of Christmas" got released Nov.1st. 2021.
Single number eight "After the Storm",  was released March 2nd. 2022.